U.S. Muslim Leaders Promote Nationwide Protests Despite Israeli Concessions
By
Pamela Geller / THE GELLER REPORT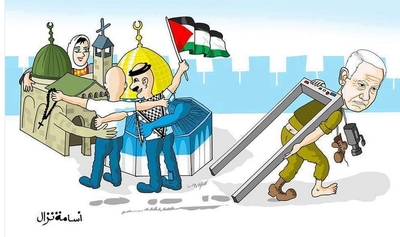 This reveals to anyone who might not have known already what the one of the primary objectives of these Muslim groups in America really is: undermining and ultimately destroying Israel. No concessions will ever be sufficient. For these Muslim groups, they are all just stepping stones to the total destruction of Israel. That's why Netanyahu should have held firm: his concession will only encourage more violence.
"U.S. Islamists Promote Nationwide Protests Despite Israeli Concessions,"
IPT News
, July 28, 2017:
In solidarity with Palestinian factions and terrorist groups, pro-Palestinian Islamist organizations in the United States are gearing up for more
anti-Israel protests
today, even though the original cause for their anger has been rescinded.
Israel
removed metal detectors Tuesday
which were installed near an entrance to Jerusalem's Al Aqsa Mosque in response to a deadly July 14
th
terrorist attack. Terrorists managed to
smuggle their guns
into the mosque the morning of the attack. Yet Israel's acquiescence has not silenced its main detractors.
Still, rallies planned throughout the country are being pushed by American Muslims for Palestine (AMP), the Council on American-Islamic Relations (CAIR), and Jewish Voice for Peace. Similar gatherings last week featured harsh anti-Israel rhetoric.
Read entire article here:
http://pamelageller.com/2017/07/muslim-leaders-concessions.html/