Contact Elected Officials
Wednesday, January 8, 2020
Iran fires rockets at Iraq's Ain al-Asad base that contains US forces




By Robert Spencer Jihad Watch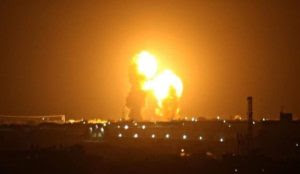 UPDATE: Another base has also been targeted. And the photo accompanying this photo is apparently from Gaza, although the Iranian regime put it out claiming it was of this attack. "War is deceit," said Muhammad. —– This will be used, and probably is already being used, to buttress the claim that Trump provoked war by […]
Read in browser »

TRUMP WINNING! US trade deficit plunges to more than 3-YEAR LOW
President Trump is a phenom. Democrats are really going to go nuts. The better things get for Americans, the worst they get.
What happened:
Exports rose 0.7% to $208.6 billion in November. The U.S. exported more aircraft engines, autos and equipment for oil drilling and exploration.
Imports slipped 1% to $251.7 billion. The U.S. imported fewer computers, cell phones, drugs and aircraft, offsetting a big increase in auto imports.
Read entire article here:
https://gellerreport.com/2020/01/trump-winning-us-trade-deficit-plunges-to-more-than-3-year-low.html/