Attorney General Jeff Sessions will testify Tuesday before the Senate Intelligence Committee to respond to former FBI Director James Comey's appearance before the panel this week.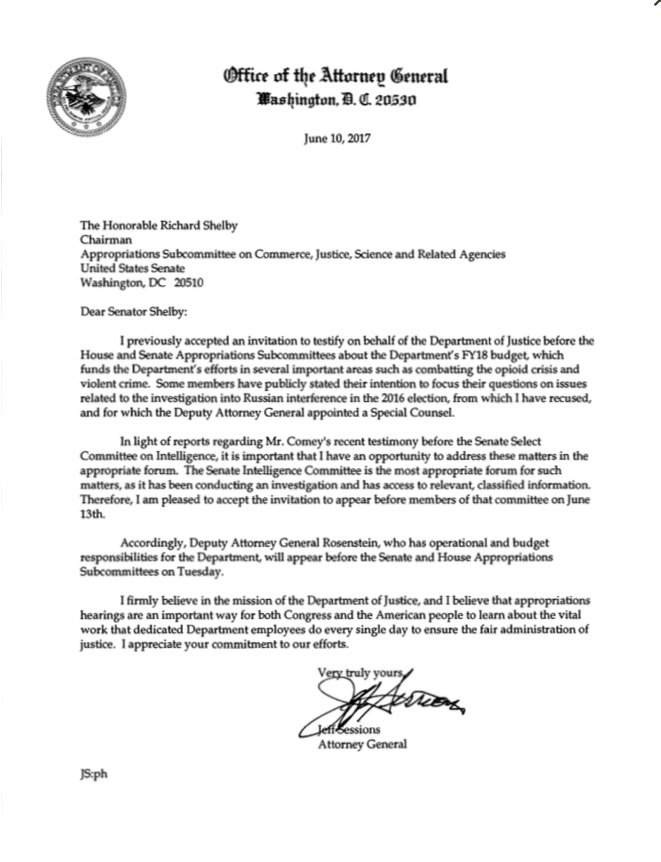 "In light of reports regarding Mr. Comey's recent testimony before the Senate Select Committee on Intelligence, it is important that I have an opportunity to address these matters in the appropriate forum," he said in a letter to Sen. Richard Shelby, the Alabama Republican who chairs a Senate appropriations subcommittee.
Sessions was scheduled to appear next week before Shelby's subcommittee to discuss the Justice Department's budget, but would instead send Deputy Attorney General Rod Rosenstein in his place.
He told Shelby that the Russia investigation would very likely be the focus of the Intelligence Committee's questioning.
Read entire article here:
http://www.newsmax.com/Headline/Jeff-Sessions-testify-Senate-Intelligence-Committee/2017/06/10/id/795325/?ns_mail_uid=32379927&ns_mail_job=1735942_06112017&s=al&dkt_nbr=byyzoshf